Peter Janeliunas and Gregory Pease honored with "EMS Stewards of the Community" Awards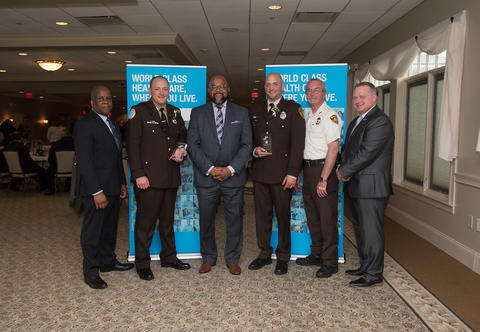 DORCHESTER, MA – In celebration of National Emergency Medical Services (EMS) week, Steward Health Care hosted the third annual "EMS Stewards of the Community" award ceremony on May 20 at the Tirrell Room in Quincy, Massachusetts.
Dallas-based Steward, which operates nine hospitals across Massachusetts, recognized 19 EMS providers. Among these were Peter Janeliunas and Gregory Pease. They were recognized for "going above and beyond" in their interactions with patients at Carney Hospital.
Janeliunas began his career in 2009 working for private EMS north of Boston and moved to Boston and began working for Boston EMS in 2014. Pease has been in EMS for 6 years. Prior to that he was a lifeguard and lifeguarding instructor for 15 years.
"Every day, EMS providers throughout our communities help those experiencing health crises," said Carney Hospital President, Tom Sands. "We are proud to partner with and honor all of the EMS providers who care for patients in and around Dorchester."
The "EMS Stewards of the Community" awards show appreciation for emergency medical responders, emergency medical technicians and advanced emergency medical technicians, and paramedics who not only carry out the noble work of caring for others, but do so with a high degree of expertise, professionalism, and compassion. An internal committee of physicians and EMS directors selected nominated recipients among current providers in communities served by Steward.
Massachusetts State Police Trooper Christopher J. Dumont, EMT-P, delivered the "Stewards of the Community" keynote address. Trooper Dumont helped save the life of Transit Officer Richard Donohue, who was shot by one of the 2013 Boston Marathon bombing suspects. Because of his heroic actions, Dumont received the Medal of Honor, the highest award given by the Massachusetts State Police.
About Carney Hospital
Since 1863, Carney Hospital has served the City of Boston and neighboring communities. Carney Hospital has received the Joint Commission's Gold Seal of Approval for health care quality and safety and numerous other quality and safety awards, including being designated a Top Hospital for 2014, 2015 and 2017 by the Leapfrog Group. The 159-bed hospital has more than 400 physicians and delivers quality care to approximately 140,000 patients annually. Carney Hospital provides Dorchester and surrounding communities with convenient, local access to quality primary care, emergency medicine and a range of specialties and subspecialties including; critical care, family medicine, cardiology, neurology, orthopedics, ambulatory care and adolescent, adult and geriatric psychiatry. Carney Hospital is part of the Steward Health Care Network. To learn more, please visit www.carneyhospital.org.
About Steward Health Care
Steward Health Care is the largest private, tax-paying physician-led health care network in the United States. Headquartered in Dallas, Texas, Steward operates 37 hospitals in the United States and the country of Malta that regularly receive top awards for quality and safety. The company employs approximately 42,000 health care professionals. The Steward network includes multiple urgent care centers and skilled nursing facilities, substantial behavioral health services, over 7,900 beds under management, and approximately 2.2 million full risk covered lives through the company's managed care and health insurance services.
The Steward Health Care Network includes 5,000 physicians across 800 communities who help to provide more than 12 million patient encounters per year. Steward Medical Group, the company's employed physician group, provides more than six million patient encounters per year. The Steward Hospital Group operates hospitals in Malta and nine states across the U.S., including Arizona, Arkansas, Florida, Louisiana, Massachusetts, Ohio, Pennsylvania, Texas, and Utah.