Carney Nurses Donate to Barbara Bertoni Scholarship Fund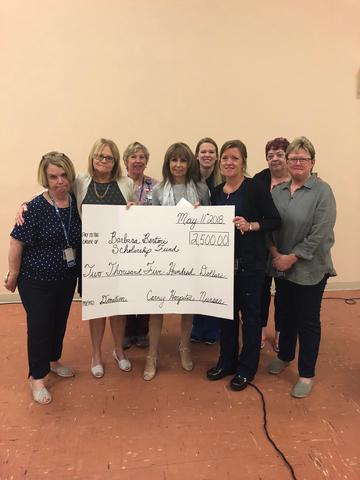 For the second year in a row, during National Nurses Week, the nurses at Carney Hospital decided to give back to the community.  This year they chose to donate to the Barbara Bertoni Scholarship Fund. The Barbara Bertoni Scholarship Fund was created by her family upon her passing late last year. Barbara worked as a Registered Nurse in the Emergency Department at Carney Hospital for almost 35 years and over that time she had become a key figure amongst the nursing staff, serving as a mentor and resource to the many new nurses and nursing students who spent time learning from her at the Carney. 
National Nurses Week is an annual week of recognition and appreciation for all of the hard work nurses do in service to the community and their patients. Carney Hospital honored its over 300 nurses with a week of activities and giveaways, which culminated in a conference and luncheon. During this final day of recognition, the nursing staff presented a check for $2,500, raised amongst themselves, in honor of their longtime colleague.
"I am continually amazed at the seemingly never-ending generosity of nurses. During a week designed to recognize their efforts, they donate their own hard-earned money to honor others." said Carney Hospital CNO/COO Karen Ahearn. 
The idea for the donation during National Nurses Week originated organically from the nursing staff and was funded entirely from individual personal contributions. Members of the staff collected donations throughout the weeks preceding Nurses Week and presented the Bertoni Family with the donation at the end of the week banquet.  
The Barbara Bertoni Memorial Scholarship is managed by the Quincy Elks Lodge, of which both Barbara and her husband were members. The scholarship will be awarded to high school seniors who elect to pursue a career in nursing.
About Carney Hospital
Since 1863, Carney Hospital has served the City of Boston and neighboring communities. Carney Hospital has received the Joint Commission's Gold Seal of Approval for health care quality and safety and numerous other quality and safety awards, including being designated a Top Hospital for 2014 and 2015 by the Leapfrog Group. The 159-bed hospital has more than 400 physicians and delivers quality care to approximately 140,000 patients annually. Carney Hospital provides Dorchester and surrounding communities with convenient, local access to quality primary care, emergency medicine and a range of specialties and subspecialties including; critical care, family medicine, cardiology, neurology, oncology, orthopedics, ambulatory care and adolescent, adult and geriatric psychiatry. Carney Hospital is part of the Steward Health Care Network. To learn more, please visit www.carneyhospital.org.
About Steward Health Care
Steward Health Care, the largest private, for-profit hospital operator in the United States, is a physician-led health care services organization committed to providing the highest quality of care in the communities where patients live. Headquartered in Boston, Massachusetts, Steward operates 38 community hospitals in the United States and the country of Malta that regularly receive top awards for quality and safety. The company employs approximately 40,000 health care professionals. The Steward network includes more than 25 urgent care centers, 42 preferred skilled nursing facilities, substantial behavioral health services, over 7,300 beds under management, and approximately 1.5 million full risk covered lives through the company's managed care and health insurance services. The total number of paneled lives within Steward's integrated care network is projected to reach 3 million in 2018.
 
Steward's unique health care service delivery model leverages technology, innovation, and care coordination to keep patients healthier. With a culture that prioritizes agility, resourcefulness, and continuous improvement, Steward is recognized as one of the world's leading accountable care organizations. The Steward Health Care Network includes thousands of physicians who help to provide more than 12 million patient encounters per year. Steward Medical Group, the company's employed physician group, provides more than 4 million patient encounters per year. The Steward Hospital Group operates hospitals in Malta and states across the U.S. including Arizona, Arkansas, Florida, Louisiana, Massachusetts, Ohio, Pennsylvania, Texas, and Utah.
###