Carney Wound Care Clinic Receives National Award for Second Consecutive Year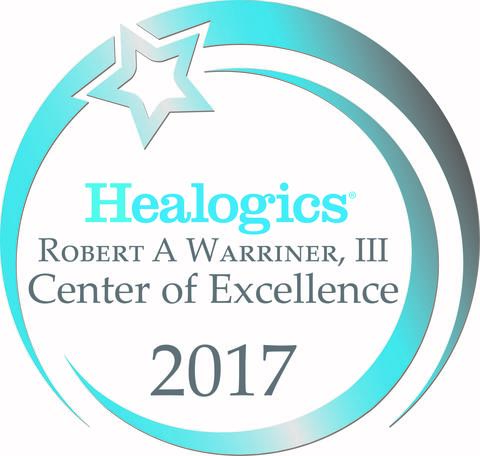 The Copeland Surgical Center at Carney Hospital has been recognized with the Robert A. Warriner III, M.D., Center of Excellence award.
This Center has achieved patient satisfaction rates higher than 92 percent and a healing rate of at least 91 percent in less than 30 median days to heal, for a minimum of two consecutive years. The Center was awarded this prestigious honor by Healogics, the nation's largest provider of advanced wound care services. Out of 340 eligible Centers, 268 were honored with this award. The award is named for Dr. Robert A. Warriner III, a pioneer in wound care and the former Chief Medical Officer for Healogics. 
"It a testament to our staff's commitment to providing world-class health care for our patients right where they live, that they should be recognized for clinical excellence for a second consecutive year" said Carney Hospital President Walter Ramos. 
The Copeland Surgical Center at Carney Hospital is a member of the Healogics network of nearly 700 Wound Care Centers®, with access to benchmarking data and proven experience treating approximately 2.5 million chronic wounds.  Carney Hospital offers highly specialized wound care to patients suffering from diabetic ulcers, pressure ulcers, infections and other chronic wounds which have not healed in a reasonable amount of time. Advanced treatments included negative pressure wound therapy, bio-engineered skin substitutes, hyperbaric oxygen therapy, biological and biosynthetic dressings and growth factor therapies.
"At the Carney Wound Care Center, the staff is committed in its goal of providing excellent care and treatment for everyone who seeks help with a problem wound" said Program Director Bernadette Montalvo. "We are grateful to the providers in our community who trust us with their patients."    
About Carney Hospital
Since 1863, Carney Hospital has served the City of Boston and neighboring communities. Carney Hospital has received the Joint Commission's Gold Seal of Approval for health care quality and safety and numerous other quality and safety awards, including being designated a Top Hospital for 2014, 2015 and 2017 by the Leapfrog Group. The 159-bed hospital has more than 400 physicians and delivers quality care to approximately 150,000 patients annually. Carney Hospital provides Dorchester and surrounding communities with convenient, local access to quality primary care, emergency medicine and a range of specialties and subspecialties including; critical care, family medicine, cardiology, neurology, orthopedics, ambulatory care and adolescent, adult and geriatric psychiatry. Carney Hospital is part of the Steward Health Care Network. To learn more, please visit
www.carneyhospital.org
.
About Steward Health Care
Steward Health Care, the largest private hospital operator in the United States, is a physician-led health care services organization committed to providing the highest quality of care in the communities where patients live. Headquartered in Boston, Massachusetts, Steward operates 39 community hospitals in the United States and the country of Malta that regularly receive top awards for quality and safety. The company employs approximately 40,000 healthcare professionals. The Steward network includes more than 25 urgent care centers, 42 preferred skilled nursing facilities, substantial behavioral health services, over 7,300 beds under management, and approximately 1.5 million full risk covered lives through the company's managed care and health insurance services. The total number of paneled lives within Steward's integrated care network is projected to reach 3 million in 2018.
Steward's unique healthcare service delivery model leverages technology, innovation, and care coordination to keep patients healthier. With a culture that prioritizes agility, resourcefulness, and continuous improvement, Steward is recognized as one of the world's leading accountable care organizations. The Steward Health Care Network includes thousands of physicians who help to provide more than 12 million patient encounters per year. Steward Medical Group, the company's employed physician group, provides more than 4 million patient encounters per year. The Steward Hospital Group operates hospitals in Malta and states across the U.S. including Arizona, Arkansas, Colorado, Florida, Louisiana, Massachusetts, Ohio, Pennsylvania, Texas, and Utah.
###