Carney Hospital receives Get With The Guidelines-Stroke Silver Plus Quality Achievement Award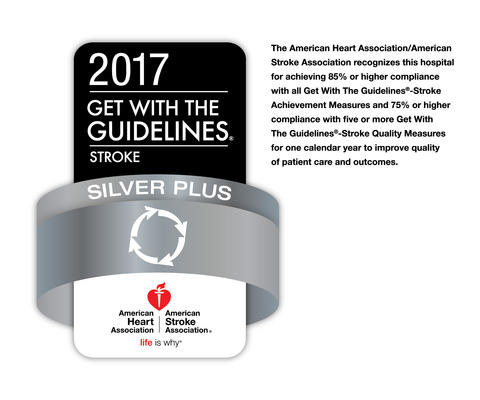 Dorchester, October 6, 2017 ― Carney Hospital has received the American Heart Association/American Stroke Association's Get With The Guidelines-Stroke Silver Plus Quality Achievement Award. The award recognizes the hospital's commitment and success in ensuring stroke patients receive the most appropriate treatment according to nationally recognized, research-based guidelines based on the latest scientific evidence.
        To receive the Silver Plus Quality Achievement award, hospitals must achieve 85 percent or higher adherence to all Get With The Guidelines-Stroke achievement indicators for at least 12 consecutive months and during the same period achieve 75 percent or higher compliance with five of eight Get With The Guidelines-Stroke Quality measures.
        These quality measures are designed to help hospital teams provide the most up-to-date, evidence-based guidelines with the goal of speeding recovery and reducing death and disability for stroke patients. They focus on appropriate use of guideline-based care for stroke patients, including aggressive use of medications such as clot-busting and anti-clotting drugs, blood thinners and cholesterol-reducing drugs, preventive action for deep vein thrombosis and smoking cessation counseling.
        "A stroke patient loses 1.9 million neurons each minute stroke treatment is delayed. This recognition further demonstrates our commitment to delivering advanced stroke treatments to patients quickly and safely," said Walter Ramos, Carney Hospital President. "Carney Hospital continues to strive for excellence in the acute treatment of stroke patients. The recognition from the American Heart Association/American Stroke Association's Get With The Guidelines-Stroke further reinforces our team's hard work."
        "The American Heart Association and American Stroke Association recognize Carney Hospital for its commitment to stroke care," said Paul Heidenreich, M.D., M.S., national chairman of the Get With The Guidelines Steering Committee and Professor of Medicine at Stanford University. "Research has shown there are benefits to patients who are treated at hospitals that have adopted the Get With The Guidelines program."
        Get With The Guidelines-S puts the expertise of the American Heart Association and American Stroke Association to work for hospitals nationwide, helping hospital care teams ensure the care provided to patients is aligned with the latest research-based guidelines. Developed with the goal to save lives and improve recovery time, Get With The Guidelines-S has impacted more than 3 million patients since 2003.
        According to the American Heart Association/American Stroke Association, stroke is the No. 5 cause of death and a leading cause of adult disability in the United States. On average, someone in the U.S. suffers a stroke every 40 seconds, someone dies of a stroke every four minutes, and nearly 800,000 people suffer a new or recurrent stroke each year.
About Carney Hospital
        Since 1863, Carney Hospital has served the City of Boston and neighboring communities. Carney Hospital has received the Joint Commission's Gold Seal of Approval for health care quality and safety and numerous other quality and safety awards, including being designated a Top Hospital for 2014 and 2015 by the Leapfrog Group. The 159-bed hospital has more than 400 physicians and delivers quality care to approximately 140,000 patients annually. Carney Hospital provides Dorchester and surrounding communities with convenient, local access to quality primary care, emergency medicine and a range of specialties and subspecialties including; critical care, family medicine, cardiology, neurology, orthopedics, ambulatory care and adolescent, adult and geriatric psychiatry. Carney Hospital is part of the Steward Health Care Network. To learn more, please visit www.carneyhospital.org.
About Steward Health Care
        Steward Health Care is a fully integrated national health care services organization committed to providing the highest quality of care in the communities where our patients live. Steward owns and operates 18 community hospitals across four states, serves over 800 communities, and has more than 23,000 employees. The Steward network includes more than 25 urgent care centers, 42 preferred skilled nursing facilities, substantial behavioral health offerings, and more than 3,700 beds under management.
        The innovative, community-based Steward Health Care Network includes several thousand physicians who care for approximately 2 million patients annually. Steward Medical Group, the company's employed physician group, provides more than 1 million patient encounters per year and manages Steward Home Care and Hospice with 300,000 and 35,000 patient encounters respectively. Steward's unique health care service delivery model leverages technology and care coordination to keep patients healthier and in the community. Steward is recognized as one of the nation's leading accountable care organizations. Steward hospitals have received the country's top awards for quality and safety.
        The Steward Hospital Group is comprised of: Sebastian River Medical Center (Sebastian, FL), Wuesthoff Medical Center (Melbourne, FL), Wuesthoff Medical Center (Rockledge, FL), Carney Hospital (Dorchester, MA), Good Samaritan Medical Center (Brockton, MA), Holy Family Hospital (Haverhill, MA and Methuen, MA), Morton Hospital (Taunton, MA), Nashoba Valley Medical Center (Ayer, MA), New England Sinai Hospital (Stoughton, MA), Norwood Hospital (Norwood, MA), Saint Anne's Hospital (Fall River, MA), St. Elizabeth's Medical Center (Brighton, MA), Hillside Rehabilitation Hospital (Warren, OH), Northside Medical Center (Youngstown, OH), Trumbull Memorial Hospital (Warren, OH), Easton Hospital (Easton, PA) and Sharon Regional Health System (Sharon, PA). 
        Additional information is available at www.steward.org.
###