Carney Hospital Announces Partnership with TotalCare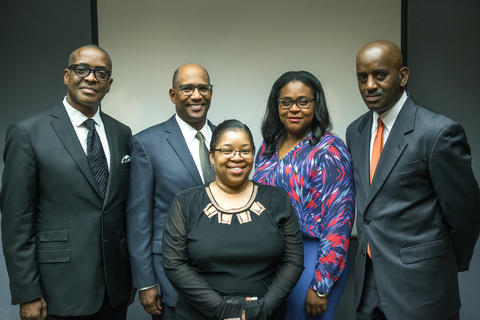 PICTURED LEFT TO RIGHT: Reverend William Dickerson, Carney Hospital Board Member; Walter Ramos, Carney Hospital President; Eleanor Chalmus, Director TotalCare; Nicola Nelson, Manager TotalCare; Darryl Smith, TotalCare Board Member
Dorchester, MA – August 9th, 2017 – Carney Hospital has partnered with TotalCare, LLC, a locally owned home care provider based out of Roxbury, to provide eligible patients access to home care services. The goal of this partnership is to increase access to preventative healthcare services for members of our community who are most vulnerable and to reduce hospital readmissions.
Often the greatest determination of health outcomes is not the quality of care delivered by a hospital, but by social factors that impact the ability to look after ourselves. Patients who are discharged and whose medical condition requires assistance to complete everyday tasks such as cooking, cleaning, and personal hygiene are more likely to see themselves back in the hospital if that assistance is not provided.
To address these issues Carney and TotalCare have formed this important relationship. TotalCare provides complete home care to eligible patients who require daily assistance with multiple personal care tasks. TotalCare's staff of trained healthcare professionals provide nurse monitoring, medication assistance, companion care, personal care assistance, house cleaning, and meal preparation up to seven days a week. These services are provided free of charge for members of MassHealth. Carney Hospital's case management staff will identify eligible patients upon discharge and refer them to TotalCare to receive home care services.
"Carney's partnership with TotalCare is another step forward in caring for our patients, with compassion and respect, in the communities where they live. This partnership will only serve to improve health outcomes for Boston's most diverse neighborhoods by bringing support services into their homes", said Carney Hospital President Walter Ramos, "I am thankful for our Board Chairman J. Keith Motley and Board Member Reverend William Dickerson for their assistance in bringing forth this partnership opportunity with a minority-owned business that will expand services to our community."
TotalCare is a local home care provider that is founded on the principle of providing "one source of caregiving" to ensure members of our community receive the services they need and deserve. TotalCare's mission is to deliver a personalized home care plan with the goal of providing services to seniors and adults with disabilities to remain self-sufficient and independent in their homes.
"TotalCare is honored to join in partnership with Carney Hospital to provide services to a very diverse community in Boston and the surrounding area. We are very excited to put our boots on the ground and work in this great community with Carney", said Eleanor Chalmus spokesperson for TotalCare.
About Carney Hospital
Since 1863, Carney Hospital has served the City of Boston and neighboring communities. Carney Hospital has received the Joint Commission's Gold Seal of Approval for health care quality and safety and numerous other quality and safety awards, including being designated a Top Hospital for 2014 and 2015 by the Leapfrog Group. The 159-bed hospital has more than 400 physicians and delivers quality care to approximately 140,000 patients annually. Carney Hospital provides Dorchester and surrounding communities with convenient, local access to quality primary care, emergency medicine and a range of specialties and subspecialties including; critical care, family medicine, cardiology, neurology, orthopedics, ambulatory care and adolescent, adult and geriatric psychiatry. Carney Hospital is part of the Steward Health Care Network. To learn more, please visit
www.carneyhospital.org
.
About Steward Health Care
Steward Health Care is a fully integrated national health care services organization committed to providing the highest quality of care in the communities where our patients live. Steward owns and operates 18 community hospitals across four states, serves over 800 communities, and has more than 23,000 employees. The Steward network includes more than 25 urgent care centers, 42 preferred skilled nursing facilities, substantial behavioral health offerings, and more than 3,700 beds under management.
The innovative, community-based Steward Health Care Network includes several thousand physicians who care for approximately 2 million patients annually. Steward Medical Group, the company's employed physician group, provides more than 1 million patient encounters per year and manages Steward Home Care and Hospice with 300,000 and 35,000 patient encounters respectively. Steward's unique health care service delivery model leverages technology and care coordination to keep patients healthier and in the community. Steward is recognized as one of the nation's leading accountable care organizations. Steward hospitals have received the country's top awards for quality and safety.
The Steward Hospital Group is comprised of: Sebastian River Medical Center (Sebastian, FL), Wuesthoff Medical Center (Melbourne, FL), Wuesthoff Medical Center (Rockledge, FL), Carney Hospital (Dorchester, MA), Good Samaritan Medical Center (Brockton, MA), Holy Family Hospital (Haverhill, MA and Methuen, MA), Morton Hospital (Taunton, MA), Nashoba Valley Medical Center (Ayer, MA), New England Sinai Hospital (Stoughton, MA), Norwood Hospital (Norwood, MA), Saint Anne's Hospital (Fall River, MA), St. Elizabeth's Medical Center (Brighton, MA), Hillside Rehabilitation Hospital (Warren, OH), Northside Medical Center (Youngstown, OH), Trumbull Memorial Hospital (Warren, OH), Easton Hospital (Easton, PA) and Sharon Regional Health System (Sharon, PA).  
###