Carney Hospital Nursing Staff Donates to Local Senior Center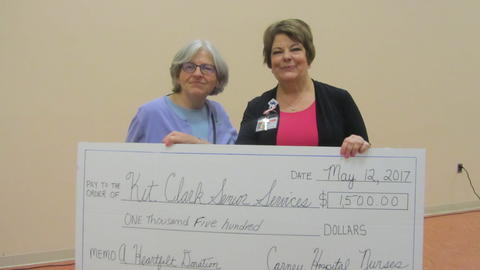 Dorchester, MA – June 20th, 2017 During National Nurses Week, Carney Hospital's Nursing Staff raised donations for Kit Clark Senior Services, a local organization who provides many vital services to our community's seniors.
National Nurses Week is an annual week of recognition and appreciation for all of the hard work nurses do in service to the community and their patients and Carney Hospital honored its nurses with a week of activities and giveaways, which culminated in a banquet. During this banquet, the nursing staff presented a check of $1,500, raised amongst themselves, to Kit Clark in support of their mission of helping older Bostonians age with dignity and grace for more than 40 years.
"Carney Hospital is fortunate to have a nursing staff so invested in our community that they would contribute to others at a celebration designed to honor them", said Carney Hospital President Walter Ramos.
The idea for the donation during National Nurses Week originated organically from the nursing staff and was funded entirely from individual personal contributions. Members of the staff collected donations from individual members throughout the week and surprised Kit Clark representative Nancy Mahan, Senior VP of Program Services, with the donation at the end of the week banquet.  
About Carney Hospital
Since 1863, Carney Hospital has served the City of Boston and neighboring communities. Carney Hospital has received the Joint Commission's Gold Seal of Approval for health care quality and safety and numerous other quality and safety awards, including being designated a Top Hospital for 2014 and 2015 by the Leapfrog Group. The 159-bed hospital has more than 400 physicians and delivers quality care to approximately 140,000 patients annually. Carney Hospital provides Dorchester and surrounding communities with convenient, local access to quality primary care, emergency medicine and a range of specialties and subspecialties including; critical care, family medicine, cardiology, neurology, oncology, orthopedics, ambulatory care and adolescent, adult and geriatric psychiatry. Carney Hospital is part of the Steward Health Care Network. To learn more, please visit
www.carneyhospital.org.
About Steward Health Care
Steward Health Care is a fully integrated national health care services organization committed to providing the highest quality of care in the communities where our patients live. Steward owns and operates 18 community hospitals across four states, serves over 800 communities, and has more than 23,000 employees. The Steward network includes more than 25 urgent care centers, 42 preferred skilled nursing facilities, substantial behavioral health offerings, and more than 3,700 beds under management.
The innovative, community-based Steward Health Care Network includes several thousand physicians who care for approximately 2 million patients annually. Steward Medical Group, the company's employed physician group, provides more than 1 million patient encounters per year and manages Steward Home Care and Hospice with 300,000 and 35,000 patient encounters respectively. Steward's unique health care service delivery model leverages technology and care coordination to keep patients healthier and in the community. Steward is recognized as one of the nation's leading accountable care organizations. Steward hospitals have received the country's top awards for quality and safety.
The Steward Hospital Group is comprised of: Sebastian River Medical Center (Sebastian, FL), Wuesthoff Medical Center (Melbourne, FL), Wuesthoff Medical Center (Rockledge, FL), Carney Hospital (Dorchester, MA), Good Samaritan Medical Center (Brockton, MA), Holy Family Hospital (Haverhill, MA and Methuen, MA), Morton Hospital (Taunton, MA), Nashoba Valley Medical Center (Ayer, MA), New England Sinai Hospital (Stoughton, MA), Norwood Hospital (Norwood, MA), Saint Anne's Hospital (Fall River, MA), St. Elizabeth's Medical Center (Brighton, MA), Hillside Rehabilitation Hospital (Warren, OH), Northside Medical Center (Youngstown, OH), Trumbull Memorial Hospital (Warren, OH), Easton Hospital (Easton, PA) and Sharon Regional Health System (Sharon, PA).  
###