Carney Hospital Hires New Hospitalist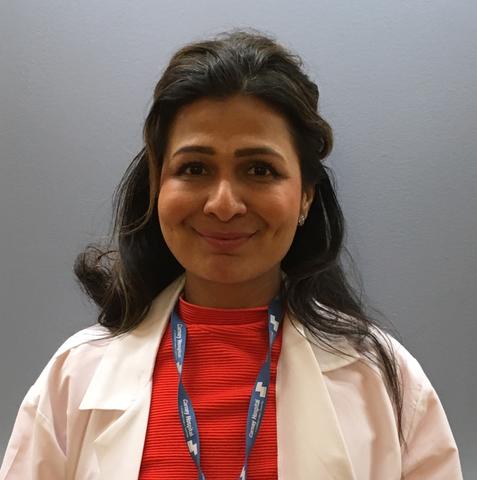 Dorchester, MA – May 8th, 2017 – Carney Hospital has hired Dr. Saba Khokhar, who will assume the role as a full-time hospitalist and will be involved with overseeing the care of its inpatient units. Dr. Khokhar is board certified in Infectious Disease and also will be joining Dr. Alexander Griffin and Dr. Philip Carling in assisting Carney's Infection Control and antibiotic stewardship practice. 
"Carney Hospital is committed to hiring outstanding physicians to provide the highest quality of care for patient's right where they live" Said Carney Hospital President Walter Ramos. "I am thrilled to have such a compassionate and caring physician such as Dr. Khokhar join our team here at Carney."
Dr. Khokhar comes to Carney Hospital after serving as the Medical Director and Chief Hospitalist for our sister hospital, Morten Hospital, in Taunton, MA. She completed her Infectious Diseases Fellowship at St. John Hospital and Medical Center in Detroit, MI and she completed her Internal Medicine Residency and Internship at Sinai-Grace Hospital also located in Detroit, MI. Dr. Khokhar received her medical degree from Dow Medical College in Karachi, Pakistan.
About Carney Hospital
Since 1863, Carney Hospital has served the City of Boston and neighboring communities. Carney Hospital has received the Joint Commission's Gold Seal of Approval for health care quality and safety and numerous other quality and safety awards, including being designated a Top Hospital for 2014 and 2015 by the Leapfrog Group. The 159-bed hospital has more than 400 physicians and delivers quality care to approximately 140,000 patients annually. Carney Hospital provides Dorchester and surrounding communities with convenient, local access to quality primary care, emergency medicine and a range of specialties and subspecialties including; critical care, family medicine, cardiology, neurology, oncology, orthopedics, ambulatory care and adolescent, adult and geriatric psychiatry. Carney Hospital is part of the Steward Health Care Network. To learn more, please visit www.carneyhospital.org.
About Steward Health Care
Steward Health Care is the largest fully integrated health care services organization and community hospital network in New England. Headquartered in Boston, Steward is the fourth largest employer in Massachusetts with more than 17,000 employees in more than 150 communities. Steward is comprised of Steward Medical Group, Steward Health Care Network, and Steward Hospital Group. Steward Medical Group provides approximately 1 million patient encounters per year in 152 sites and manages home care and hospice with 300,000 and 35,000 encounters respectively. Steward Health Care Network, a fully integrated care management company, has 3,000 physicians, with approximately 4 million patient encounters per year and affiliates or joint ventures with approximately 30 urgent care centers. Steward's Hospital Group includes Saint Anne's Hospital in Fall River, Holy Family Hospital in Methuen, St. Elizabeth's Medical Center in Brighton, Norwood Hospital, Carney Hospital in Dorchester, Good Samaritan Medical Center in Brockton, Nashoba Valley Medical Center in Ayer, Holy Family Hospital in Haverhill and Methuen, Morton Hospital in Taunton, and New England Sinai Hospital in Stoughton. Additional information is available at www.steward.org.
###