Carney Hospital Celebrates Employee Years of Service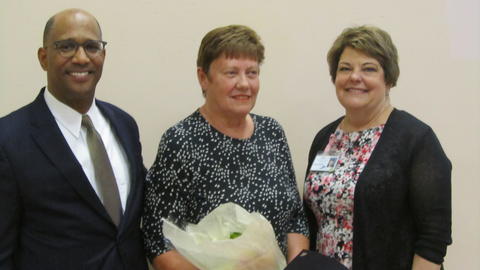 Carney Hospital Celebrates Employee Years of Service
Dorchester's Largest Employer recognizes its Longest Tenured Employees
Dorchester, MA – April 28, 2017 – On Tuesday, April 25th, 2017, Carney Hospital held its annual Employee Recognition Ceremony that honors its employees for their years of service. Employees gathered in the Cushing Auditorium in Carney for the awards ceremony that recognizes employees based upon five-year intervals of employment.
"I am so proud of the high level of compassion and care for our patients that Carney's employees demonstrate on a daily basis" noted Carney Hospital President Walter Ramos, "their commitment to serving our community is unmatched. We have an inordinately high number of employees who have worked here for 40, 45, and 50 years and this speaks to just how special of a place Carney Hospital is to work."
Staff shared their stories and experiences of having worked for Carney Hospital and serving members of the local community over their decades of employment.
Patricia Hartnett began her career at Carney Hospital in 1967, after graduating from the Catherine Laboure School of Nursing at Carney. Her first nursing job was on a male inpatient surgical floor, a position she held for 28 years, at which point she moved to the Transitional Care Unit. After spending 10 years there, Pat transferred to the Minor Procedure Unit where she has been a Registered Nurse for the last 12 years.
In 1987 Carla Miller began working for Carney Hospital in the Radiology Department File Room as the Supervisor, a position that she held for 10 years. After that Carla moved to her current role at the front desk of the Radiology Department, greeting patients with a friendly smile and providing comfort to those worried about their pending appointments.
About Carney Hospital
Since 1863, Carney Hospital has served the City of Boston and neighboring communities. Carney Hospital has received the Joint Commission's Gold Seal of Approval for health care quality and safety and numerous other quality and safety awards, including being designated a Top Hospital for 2014 and 2015 by the Leapfrog Group. The 159-bed hospital has more than 400 physicians and delivers quality care to approximately 37,000 patients annually. Carney Hospital provides Dorchester and surrounding communities with convenient, local access to quality primary care, emergency medicine and a range of specialties and subspecialties including; critical care, family medicine, cardiology, neurology, oncology, orthopedics, ambulatory care and adolescent, adult and geriatric psychiatry.
Carney Hospital is part of the Steward Health Care Network. To learn more, please visit
www.carneyhospital.org
.
About Steward Health Care
Steward Health Care is the largest fully integrated health care services organization and community hospital network in New England. Headquartered in Boston, Steward is the fourth largest employer in Massachusetts with more than 17,000 employees in more than 150 communities. Steward is comprised of Steward Medical Group, Steward Health Care Network, and Steward Hospital Group. Steward Medical Group provides approximately 1 million patient encounters per year in 152 sites and manages home care and hospice with 300,000 and 35,000 encounters respectively. Steward Health Care Network, a fully integrated care management company, has 3,000 physicians, with approximately 4 million patient encounters per year and affiliates or joint ventures with approximately 30 urgent care centers. Steward's Hospital Group includes Saint Anne's Hospital in Fall River, Holy Family Hospital in Methuen, St. Elizabeth's Medical Center in Brighton, Norwood Hospital, Carney Hospital in Dorchester, Good Samaritan Medical Center in Brockton, Nashoba Valley Medical Center in Ayer, Holy Family Hospital in Haverhill and Methuen, Morton Hospital in Taunton, and New England Sinai Hospital in Stoughton. Additional information is available at
www.steward.org
.
###