Carney Hospital Appoints Local Religious Leader to Board of Directors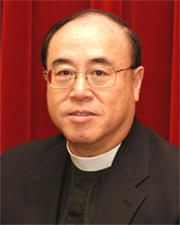 Dorchester, MA – April 11th, 2017 – Carney Hospital President Walter Ramos today announced the appointment of Reverend Richard Man Chan Law to the Hospital's Board of Directors. He currently serves as the Pastor for the Chinese Ministry at Wollaston Lutheran Church in Quincy, MA.
"Pastor Law's longstanding commitment to the Asian community in Quincy will provide Carney Hospital with insight and cultural sensitivity" said President Walter Ramos. "We at Carney understand the importance of acceptance, knowledge, and awareness of cultural values to the healing process and overall well-being."
"As a long-time advocate for the Asian community, I am excited to be involved with Carney and ensuring that its mission of providing quality healthcare extends to all members of our community" said Pastor Law.
Pastor Law arrived in Quincy in September, 1989. Since that time he has continued to develop programs which serve local Asian immigrants. He expanded church-based ESL programs to local Chinese residents, and he started a drop in social center for seniors in the church basement, as well as a family outreach program to Asian immigrants. The Asian American Service Association was incorporated in 1996 of which he serves as executive director in addition to work as parish pastor. Pastor Law received the 1997 Governor's New American Appreciation Award from the Commonwealth of Massachusetts for his service to senior citizens.
During Pastor Law's full time service in social ministry activities (through August, 1989), he also served as minister-in-charge of the Sharon Lutheran Church in Hong Kong. He was elected first Vice President of the Lutheran Church - Hong Kong Synod in 1982. He also was the department head of Lay Training for Concordia Theological Seminary in Hong Kong and the Youth Counselor for the Synod. He also has served as supervisor and chairman of the boards for several schools of the Synod.
Pastor Law was born in Hong Kong in 1944. He attended Concordia High School in Hong Kong and was graduated from Concordia Theological Seminary in Hong Kong in 1969. In 1977, he was awarded the Master's Degree in Social Work from Washington University in St. Louis, Missouri. He also completed course work for the Doctor of Ministry program at Andover Newton Theological School in Newton, Massachusetts between 1990 and 1994. He was married to Wendy Siu Fung Chan in 1973. The Laws have two grown sons, Eric and Steve.
About Carney Hospital
Since 1863, Carney Hospital has served the City of Boston and neighboring communities. Carney Hospital has received the Joint Commission's Gold Seal of Approval for health care quality and safety and numerous other quality and safety awards, including being designated a Top Hospital for 2014 and 2015 by the Leapfrog Group. The 159-bed hospital has more than 400 physicians and delivers quality care to approximately 37,000 patients annually. Carney Hospital provides Dorchester and surrounding communities with convenient, local access to quality primary care, emergency medicine and a range of specialties and subspecialties including; critical care, family medicine, cardiology, neurology, oncology, orthopedics, ambulatory care and adolescent, adult and geriatric psychiatry. Carney Hospital is part of the Steward Health Care Network. To learn more, please visit
www.carneyhospital.org
.
About Steward Health Care
Steward Health Care is the largest fully integrated health care services organization and community hospital network in New England. Headquartered in Boston, Steward is the fourth largest employer in Massachusetts with more than 17,000 employees in more than 150 communities. Steward is comprised of Steward Medical Group, Steward Health Care Network, and Steward Hospital Group. Steward Medical Group provides approximately 1 million patient encounters per year in 152 sites and manages home care and hospice with 300,000 and 35,000 encounters respectively. Steward Health Care Network, a fully integrated care management company, has 3,000 physicians, with approximately 4 million patient encounters per year and affiliates or joint ventures with approximately 30 urgent care centers. Steward's Hospital Group includes Saint Anne's Hospital in Fall River, Holy Family Hospital in Methuen, St. Elizabeth's Medical Center in Brighton, Norwood Hospital, Carney Hospital in Dorchester, Good Samaritan Medical Center in Brockton, Nashoba Valley Medical Center in Ayer, Holy Family Hospital in Haverhill and Methuen, Morton Hospital in Taunton, and New England Sinai Hospital in Stoughton. Additional information is available at
www.steward.org
.
###