The Copeland Surgical Center at Carney Hospital Receives National Award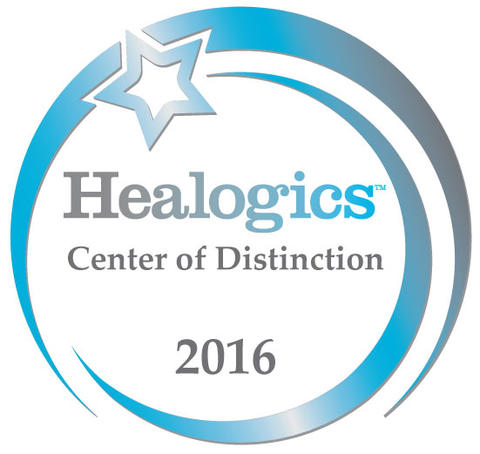 Dorchester, MA – February 27, 2017 –The Copeland Surgical Center at Carney Hospital has been recognized with The Center of Distinction award for clinical excellence by Healogics, the nation's leading and largest wound care management company. 
The Copeland Surgical Center achieved outstanding clinical outcomes for 12 consecutive months, including patient satisfaction higher than 92 percent, and a wound healing rate of at least 91 percent in less than 31 median days. Out of 630 Centers eligible for the Center of Distinction award, 334 achieved this honor in 2017. 
"I am proud of The Copeland Surgical Center staff who work tirelessly to ensure that patients in our community are receiving world-class health care right where they live" said Carney Hospital President Walter Ramos, JD.
The Wound Care Center is a member of the Healogics network of nearly 800 Centers, with access to benchmarking data and proven experience treating approximately 2.5 million chronic wounds. The Copeland Surgical Center offers highly specialized wound care to patients suffering from diabetic ulcers, pressure ulcers, infections and other chronic wounds which have not healed in a reasonable amount of time. Some of the leading-edge treatments offered at the Wound Care Center include negative pressure wound therapy, debridement, application of cellular-based tissue or skin substitutes to the wound, offloading or total contact casts and hyperbaric oxygen therapy. 
The Medical Director for The Copeland Surgical Center, Dr. Martin Williams, stated "Our mission from the beginning has been to provide the highest level of compassionate care to each and every patient that walks through our doors and we are honored by our fellow physicians for their continued support of that mission."
About Carney Hospital
Since 1863, Carney Hospital has served the City of Boston and neighboring communities. Carney Hospital has received the Joint Commission's Gold Seal of Approval for health care quality and safety and numerous other quality and safety awards, including being designated a Top Hospital for 2014 and 2015 by the Leapfrog Group. The 159-bed hospital has more than 400 physicians and delivers quality care to approximately 37,000 patients annually. Carney Hospital provides Dorchester and surrounding communities with convenient, local access to quality primary care, emergency medicine and a range of specialties and subspecialties including; critical care, family medicine, cardiology, neurology, oncology, orthopedics, ambulatory care and adolescent, adult and geriatric psychiatry. Carney Hospital is part of the Steward Health Care Network. To learn more, please visit www.carneyhospital.org.
About Steward Health Care
Steward Health Care is the largest fully integrated health care services organization and community hospital network in New England. Headquartered in Boston, Steward is the fourth largest employer in Massachusetts with more than 17,000 employees in more than 150 communities. Steward is comprised of Steward Medical Group, Steward Health Care Network, and Steward Hospital Group. Steward Medical Group provides approximately 1 million patient encounters per year in 152 sites and manages home care and hospice with 300,000 and 35,000 encounters respectively. Steward Health Care Network, a fully integrated care management company, has 3,000 physicians, with approximately 4 million patient encounters per year and affiliates or joint ventures with approximately 30 urgent care centers. Steward's Hospital Group includes Saint Anne's Hospital in Fall River, Holy Family Hospital in Methuen, St. Elizabeth's Medical Center in Brighton, Norwood Hospital, Carney Hospital in Dorchester, Good Samaritan Medical Center in Brockton, Nashoba Valley Medical Center in Ayer, Holy Family Hospital in Haverhill and Methuen, Morton Hospital in Taunton, and New England Sinai Hospital in Stoughton. Additional information is available at www.steward.org.
###