Carney Hospital Celebrates Completion of Expanded Emergency Department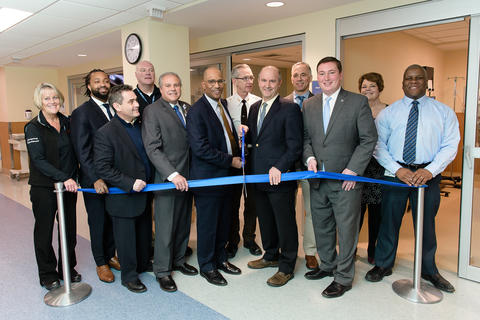 Dorchester, MA – February 16, 2017 – Carney Hospital today celebrated the completion of its newly renovated and expanded Emergency Department (ED) with local community leaders.
"The renovation and expansion of our ED will offer our patients more space and comfort, while improving the department's workflow and efficiency" said Carney Hospital President Walter J. Ramos.
"Congratulations to Steward Health Care and the Carney Hospital on the expansion of their Emergency Department" said Boston City Councilman Frank Baker. "This will continue to be a great asset to Dorchester and the surrounding communities and we look forward to their continued success."
State Representative Dan Cullinane stated "Carney has always played a critical role in our community and this new Emergency Department will only expand the tremendous benefit that Carney provides to the people of Boston, particularly here in Dorchester and Mattapan."
A ribbon-cutting ceremony was held today inside of the newly expanded and renovated Emergency Department (ED) that now includes 11 private rooms for added comfort and privacy. Hospital administration, elected officials, and community leaders touted the project as evidence of Carney's commitment to asserting itself as a leading community hospital. The expansion of the ED is part of Carney Hospital's ongoing mission to provide high quality health care for Dorchester and the surrounding communities.
The ED expansion and renovation reached its completion late in December of 2016. Since its completion, the ED has recorded some of the shortest wait times in the Greater Boston area, with patients averaging 12-13 minutes from the time a patient arrives and is seen by a medically trained professional. This level of care is rare, not only throughout the Greater Boston area, but outpaces most high volume EDs throughout the nation.
About Carney Hospital
Since 1863, Carney Hospital has served the City of Boston and neighboring communities. Carney Hospital has received the Joint Commission's Gold Seal of Approval for health care quality and safety and numerous other quality and safety awards, including being designated a Top Hospital for 2014 and 2015 by the Leapfrog Group. The 159-bed hospital has more than 400 physicians and delivers quality care to approximately 37,000 patients annually. Carney Hospital provides Dorchester and surrounding communities with convenient, local access to quality primary care, emergency medicine and a range of specialties and subspecialties including; critical care, family medicine, cardiology, neurology, oncology, orthopedics, ambulatory care and adolescent, adult and geriatric psychiatry. Carney Hospital is part of the Steward Health Care Network. To learn more, please visit www.carneyhospital.org.
About Steward Health Care
Steward Health Care is the largest fully integrated health care services organization and community hospital network in New England. Headquartered in Boston, Steward is the fourth largest employer in Massachusetts with more than 17,000 employees in more than 150 communities. Steward is comprised of Steward Medical Group, Steward Health Care Network, and Steward Hospital Group. Steward Medical Group provides approximately 1 million patient encounters per year in 152 sites and manages home care and hospice with 300,000 and 35,000 encounters respectively. Steward Health Care Network, a fully integrated care management company, has 3,000 physicians, with approximately 4 million patient encounters per year and affiliates or joint ventures with approximately 30 urgent care centers. Steward's Hospital Group includes Saint Anne's Hospital in Fall River, Holy Family Hospital in Methuen, St. Elizabeth's Medical Center in Brighton, Norwood Hospital, Carney Hospital in Dorchester, Good Samaritan Medical Center in Brockton, Nashoba Valley Medical Center in Ayer, Holy Family Hospital in Haverhill and Methuen, Morton Hospital in Taunton, and New England Sinai Hospital in Stoughton. Additional information is available at www.steward.org.