The Categorical Internal Medicine, Preliminary Medicine and Transitional Year Residency programs share many faculty members. Our faculty hold appointments at the Tufts University School of Medicine, are committed to graduate medical education and take pride in educating the next generation of physicians. The following are some highlights:
James P. Morgan, MD, Program Director
Dr. James P. Morgan, M.D., Ph.D., F.A.C.C., F.A.C.P., is a renowned clinician, scientist and educator, who also serves as Chairman of the Department of Medicine at Steward Carney Hospital. He has contributed over 300 publications to the medical literature and participated in the training of many hundreds of clinicians and scientists, who have taken positions in community practice, academics, and industry throughout the world. Dr. Morgan has been a member of the faculties at the University of Cincinnati, the Mayo Clinic and Beth Israel Deaconess Medical Center/Harvard Medical School in Boston. His current academic appointment is as Professor of Medicine, Tufts University School of Medicine, Boston, MA. 
M. Faisal Khan, MD, MSc, MRCP, FACC, Associate Program Director
Dr. Fasiel Khan is board certified in cardiology and internal medicine. He received his medical degree from United Medical
and Dental Schools of Guy's and St. Tomas Hospitals. He served his residency at Oxford Radcliff Hospitals, Oxford University, UK, and Boston Medical Center followed by fellowships at Boston Medical Center, Brigham and Women's Hospital and a MSc at Harvard School of Public Health. Dr. Khan has been widely published and as an educator for over two decades, has participated in training of residents and fellows. His interests include teaching, new device therapies and structural heart disease. Dr. Khan is multilingual speaking French, Punjabi, Swahili and Urdu.
Martin Williams, MD, Chief of Surgery

Dr. Williams graduated from Harvard Medical School. He completed residencies in both internal medicine and general surgery followed by a fellowship in surgical critical care. He joined Carney Hospital as director of Surgical Education in 1997 and was appointed chief of Surgery in 2000. Dr. Williams has been a member of the Massachusetts Public Health Council and is the hospital liaison to the Commission on Cancer. He has a large surgery practice and enjoys supervising Transitional Year Residents in the hospital's newly renovated operating suites.
Alexander Griffin, MD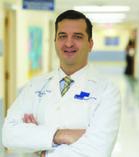 Dr. Griffin earned his medical degree from the University of Ibero/Americana in New Zealand. He returned to the United States to complete his residency in internal medicine at Mount Sinai in New Jersey.
Dr. Griffin is a primary care physician in the Primary Care Practice at Steward Carney Hospital in Dorchester, Massachusetts. He is board certified in internal medicine by the American Board of Internal Medicine. He is active in precepting residents in his primary care clinic, teaching rotating Tufts Medical School students, and advising residents on their future career path(s) in medicine.