COVID-19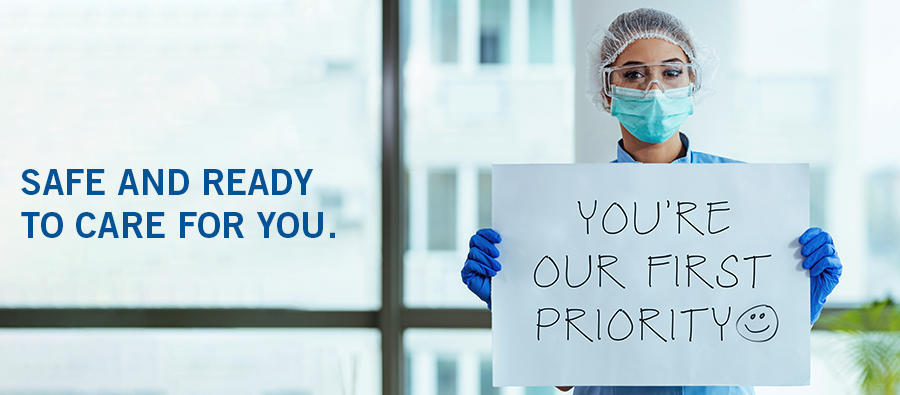 At Carney Hospital, we're taking precautions to make sure our hospital is clean, safe and ready for your next visit.
Your health and safety are our top priority.
Carney Hospital is taking additional, necessary preparations to ensure patients can receive compassionate care in a safe, carefully managed environment – with confidence and without fear.
Our Safe and Ready program consists of a rigorous five-point standard ensuring patient safety, confidence and convenience:
Expanded hours will allow previously canceled procedures to be scheduled as quickly as possible.
Any COVID-19 related care takes place in designated areas away from other patients and their families.
Emergency Departments are reorganized to be a safe place to treat all emergency patients.
Astringent cleaning policy has been implemented throughout the hospital.
A strictly controlled visitor and masking policy is required for patient safety.
You can rest assured that we have made the necessary preparations to care for you in a safe, controlled and professional way.
We're here, and we're ready to provide the care you need.
Visitor Restrictions
The safety and well-being of our patients, visitors and staff is our number one priority. Please be aware of the following newly revised guidelines before visiting Carney Hospital. 
IMPORTANT INFORMATION ABOUT VISITING RESTRICTIONS
Carney Hospital is fully prepared to care for our patients and our community. 
Out of an abundance of caution, we will implement visitor restrictions. This is in response to the increased presence of COVID-19 in our community and is designed to further protect our patients, their families, and our staff.
We remain ready to serve all of your health care needs and have taken the necessary steps to ensure patients can receive care in a safe environment.
Our stringent safety measures include mandatory wearing of masks, social distancing in waiting areas, and vigilant cleaning in all areas, which includes the use of EPA-registered, hospital-grade disinfectants validated for use against COVID-19. We also pre-screen all patients scheduled for procedures, and screen everyone before they enter the hospital.
VISITOR GUIDELINE IN PHASE 1 RECOVERY
Visitor restrictions will be determined by infection control in conjunction with hospital leadership but should include at least 14 days of decreasing incidence of COVID and conventional use of PPE. May only be triggered by Infection Control in collaboration with the HICs Committee and hospital leadership
For the purpose of this guidance, birth partners, parents of patients who are under the age of 18 years old, attorneys of patients, and companions for patients with intellectual and/or physical disabilities are not considered visitors but must be screened.
All Potential Visitors must:
Enter through the designated areas of the hospital.
Screen (-) for COVID symptoms or new risk factors by the Screening Questionnaire.
Be 18 years of age or older.
Wear a facemask.
Hand sanitizer upon entering and leaving the facility and any patient room.
Maintain social distancing while in the facility.
Remain outside the hospital until the patient is ready for visitor
Remain in the patient's room during the visit.
In compassionate care situations, including but not limited to end-of-life situations, decisions about visitation should be made collaboratively with the patient and loved ones, as appropriate, on a case-by-case basis.
Hospitals should continue to support alternative electronic methods for communication between patients and all other visitors, such as Skype, Facetime, WhatsApp or Google Duo.
Hospitals are also directed to restrict any non-essential personnel, such as sales vendors, who do not provide direct care from entering the facility.
Visitors must adhere to the following guidelines:
One visitor at a time
No visitor under the age of 18 years old (unless the visitor is a child of a patient)
No more than 2 total designated visitors throughout the hospital stay.
People waiting to visit a patient should wait outside, rather than in hospital waiting rooms, until the time of their visit 
No time limit to visit.
For ambulatory or outpatient services, one individual or companion may accompany the patient
Inpatients: 
Patients are allowed 1 visitor at a time for negative patients only. All visitors must enter through Carney's main lobby. They will be screened at the front and provided a visitor sticker, then directed to check-in at the nurse station to sign in before going to the patient's room. Each unit must maintain a visitor sign-in log. 
Visiting hours for inpatient units will be 11 am – 2 pm and 4 pm – 6 pm daily. Visitors must stay in the patients' room and will not be allowed to go in and out during the visit. 
Visitation will remain restricted for COVID+ patients and those suspected of having COVID. 
Others waiting to visit with a patient must wait outside in their vehicle, vs waiting in the lobby. The current visitor must check out at the front desk before another visitor will be allowed in. 
Emergency Department:
Patients are allowed 1 visitor at a time. Patients who are minors can be accompanied by 1 parent or guardian. All visitors will be screened at the ED registration desk and provided a visitor sticker. 
There will be no restricted or specific visiting hours for emergency patients. Visitors must stay in the patients' room and will not be allowed to go in and out during the visit. Others waiting to visit with a patient must wait outside in their vehicle, vs waiting in the ED waiting area. The current visitor must check out at the ED registration desk before another visitor will be allowed in. 
Behavioral Health Department: Patients are allowed 1 visitor at a time and when possible this visit must be planned with the authorized unit's staff.
Hospitals may prohibit visitation on a case-by-case basis if a patient tests positive for or shows symptoms of COVID-19 or if visitation poses a significant infection control risk to the patients, visitor, or staff
Please note: Patients with Physical or Intellectual Disabilities:  One support person over the age of 18 will be allowed for patients with physical or intellectual disabilities, regardless of the patient's COVID status. There are no restrictions on visiting hours. Support persons are not considered visitors
Support persons must:
Meet clinical criteria used for general visitation, i.e., pass COVID-19 screening. The screening includes a temperature and symptom check, as well as no known COVID diagnosis within the past 20 days, at least 24 hours fever-free without the use of fever-reducing medications, and improved symptoms.
Use PPE appropriate for the patient they are supporting.  In the event the patient is COVID positive or suspect positive, the support person must use hospital-provided PPE.